The fundamentally new acoustic design!
(Trumpet)
An extreme versatility.
And, a new level of comfort.
The ultimate practice mute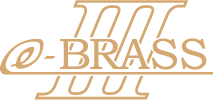 (Trombone / Horn)
Even smaller and lighter

" The compact e-BrassIV plays well and travels. It's very satisfying to hear a full brass sound when your decibel level is restricted. I would definitely recommend this new e-mute to the working trumpet professional. "
- Dave Ruth, DownBeat Magazine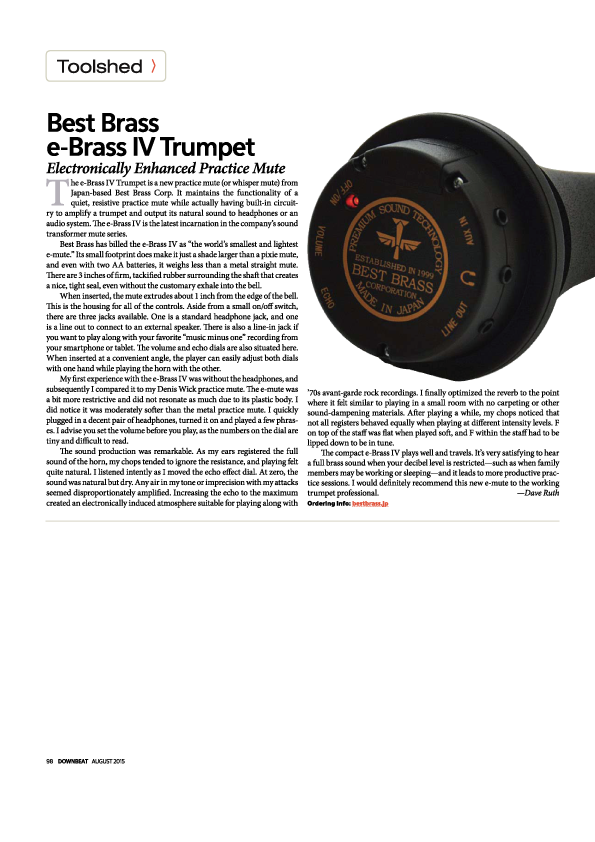 " Damit richtig leise, sehr freies Spielgefühl. Der e-Brass IV ist ein echter Übungsdämpfer. Sehr gut bewerte ich die Tatsache, dass der Dämpfer die Intonation der Trompete nicht verändert. e-Brass IV aufgrund seiner neuen Bauform eine Einsatzmöglichkeit im Grunde für alle Trompetenmodelle, was sein ganz großer Vorteil ist."- Johannes Penkara, Sonic Magazine

The three reason that 'e-Brass' was chosen.
① The superior volume reduction;

even equal to a soundproof room.
Anywhere at any time!
e-Brass reduces instrument output to a whisper, lowering volume approximately -30dB to -35dB. With its amazing quietness, you don't have to worry about disturbing the neighbors and also can enjoy playing the instrument without feeling self-conscious about other people listening. Using the e-Brass is just like playing in a completely portable and personal studio where nobody can bother you.(*)
* Even so, please be conscious of your circumstances...

② Despite being quiet,
it is incredibly free blowing.

An evolving mute design for over 15 years.
Besides perfect pitch and less back pressure in all registers, e-Brass achieves a very natural air flow like an open instrument. These leading features were created by carrying out a through investigation of the ideal acoustical design of something we call the total "Instrument", comprising a horn, a mouthpiece, and finally the mute.
This original design approach allows the e-Brass' to be a part of the instrument and also allows for the instrument to resonate naturally while competing practice/silent mutes just kill the sound. Further, as the instrument is still resonating with the mute, the headphones allow the listener a more pure sound without any unnecessary electronic controls.

③ World's smallest and lightest

all-in-one e-mute.
The special built-in structure makes it so simple.
One of the big differences between e-Brass and other general e-mutes is that the electronic circuit is set inside the mute. With this built-in structure, e-Brass has much less of a hassle in the preparation and only needs headphones to play. But, despite this, e-Brass is made up to 40% lighter than other e-mutes. In fact, even e-Brass Horn weighs less than most smart phones, so you won't feel like the bell is being weighed down or worried about dropping the mute. With this incredible lightness, e-Brass enables enough stamina for focused practice or ease in any performance situation.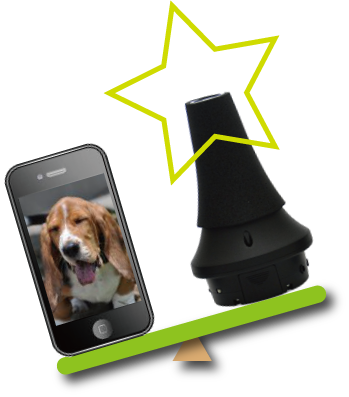 Lineup
e-BRASS for Trumpet
| | |
| --- | --- |
| Model Name | e-BRASS IV Trumpet |
| For | Trumpet Cornet |
| Measurement | φ80 x 125 (mm) |
| Weight | 82 (g) |
| Price | 17800 JPY |
e-BRASS for Trombone
| | |
| --- | --- |
| Model Name | e-BRASS III Trombone |
| For | Tenor Trombone |
| Measurement | φ85 x 157 (mm) |
| Weight | 90 (g) |
| Price | 18800 JPY |
e-BRASS for Horn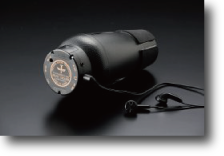 | | |
| --- | --- |
| Model Name | e-BRASS III Horn |
| For | Horn |
| Measurement | φ85 x 182 (mm) |
| Weight | 110 (g) |
| Price | 19800 JPY |
Can be stored and left in most bells and cases!
The extended part from the bell is about 2.5cm(1") on standard trumpets and is only 1cm(0.4") or less on standard trombones and the horns. Store the e-Brass in the bell and be alright on tour!
Trumpet
Trombone
Trombone players especially have trouble with bulky mutes. In many situations it's possible to store the compact e-BrassⅢ in the bell and to leave it right in the case(*).

* However, it is not recommended that the mute be stored for a long period of time. It might cause rust.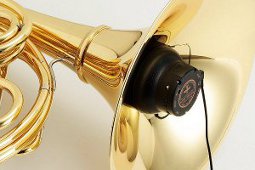 Horn

Enjoy Music Minus-one and improve your improvisation.
e-Brass comes with a connecting cord, which will facilitate interactions with PC, MP3 players, or recording devices, so immediately after your purchase, you can enjoy Music Minus-one or a play-along recording (eg. Jamey Aebersold) with its 1/8 audio-in jack.
[ How to connect(Examples) ]
① For the Minus-one
Connect AUX IN and;
・CD Player
・Mp3 Player
・PC(Playing software),etc
② For recording
Connect LINE OUT and;
・Tape recorder
・PC(Recording software)
・IC recorder,etc
Download and links.
Download contents below are some Minus-one audio samples for trumpets, trombones, horns, and saxophones, and the links right below will show you many Minus-one audio sources. Surf the internet and be a better player!
[ Download (Free) ]
2:

Piano accompaniment.

4:

Piano accompaniment.

6:

Piano accompaniment.

8:

Piano accompaniment.

Piano: Yoko Kobayashi