- New trumpet model available now! -
Even more"free-blowing",
More buzzy sound projection,
and, No more dropping!

Reinventing Jazz from the new Wah-Wah standard.
世界中で信頼される、高い品質。
Be ambitious for Wah-Wah sound.
Many of top Jazz players are particular about the taste of their own Wah-Wah(harmon) sound. Imagine yourself playing a cool solo with your favorite Wah-Wah mute; it must look sharp, however, it cannot be achieved if the mute plays sharp: as most of the conventional mutes do.
If you are passionate about a harmon sound and are looking for a new, 21st century, quality/sound, try out the Wah-Wah & Cool Jazz mute. You will find why a lot of top Jazz players choose Best Brass.
Unbeatable quality: perfectly in tune.
Because of its unique acoustical design, Wah-Wah & Cool Jazz mute is perfectly in tune with or without the stem(Fig.1), while most of the conventional mutes actually raise pitch when it is played without the stem(Fig.2). This distinctive advantage not only will enable immediate change of mutes but also set a more focused performance.
Fig.1 ( Stays in tune without the stem )
図2 (ステムを抜くとピッチが上がってしまう)



Close attention to details.
All for our loyal customers.
We do not sell only the stem part because each of the stem is made an adjustment one by one with the mute, which achieves the smooth move of the stem. Also, the special sponge we use instead of corks significantly prevents the mute from dropping during the performance. Mutes are often taken lightly compared to instruments or mouthpieces, but Best Brass proudly pays attention on these details of the mute.
From Kiyonori Sokabe
(Solo trumpet artist, develop collaborator)
Many trumpeters who often play a contemporary music like me had demanded a mute that is very in tune and blows free before Shinji and I developed this Sound Transformer (STF). In fact, it was impossible to play a tune which requires many quick mute changes, for example "Paths" by Toru Takemitsu, as changing a fingering or an embouchure was not enough to control all. One more to my delight, I do not need to be nervous about mute's falling anymore with this Sound Transformer. Persistence of Shinji as a designer, and my persistency as a player has achieved this creation called Wah-Wah & Cool Jazz. Just go and experience it, so that you will soon realize its superiority of quality.
For Trumpets (Brass, Copper, Aluminum)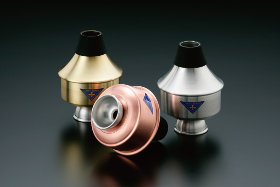 The picture shows previous versions
Model Name
Measurement(mm)
Weight
Price(JPY)
Trumpet
159 x Φ113
14,000
(Aluminum)
96(g)
Trumpet
159 x Φ113
17,500
(Copper)
168(g)
Trumpet
159 x Φ113
20,000
(Brass)
159(g)
For Trombones (Bass Trombone, Tenor Trombone)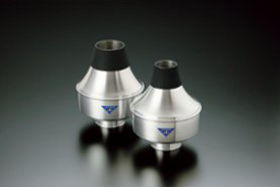 Model Name
Measurement(mm)
Weight
Price(JPY)
Trombone
207 x Φ170
24,000
(Aluminum)
180(g)
Bass Trombone
241 x Φ170
25,000
(Aluminum)
185(g)
Debuting the Cool Jazz series (non-stem version).
(*note: The stem part cannot be purchased later.)
We believe that there are many players who actually do not use the stem even though it comes with the wah-wah mute.
If you are focusing only on the Cool Jazz style, we recommend that you choose these line-up with an affordable pricing.
Aluminum
Copper
Brass
Model
Name
Measurement(mm)
Weight
Price(JPY)
Trumpet
159 x Φ113
11,000
(Aluminum)
65(g)
Trumpet
159 x Φ113
14,500
(Copper)
137(g)
Trumpet
159 x Φ113
17,000
(Brass)
128(g)
Even if you get the Cool Jazz seris with 'Warm-up nano',
the price still is same as Wah-Wah & Cool Jazz. That combination is highly recommended.
All you need to store in your case is this mute!!
For piccolo trumpet
(Only 100 pieces!!!)
Piccolo TP
110 x Φ70
20000JPY
(Copper)
95(g)
With a serial number from 00 to 99. ( Engraving picture )
A picture from Claudio Roditi.
Introducing one-off models by professional players' request.
Kazuaki Kikumoto
(NHK Symphony Orchestra)

Nobuaki Hukukawa (NHK Symphony Orchestra)
Listenthe recording with the mute.
( Song:Poyo Poyo, Composer:Dai Fujikura)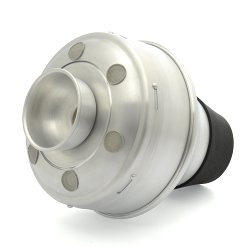 Testimonials

from Best Brass Family.
Claudio Roditi
The Hamanaga Family (Best Brass, Japan) is revolutionizing the world of brass musical instruments with their beautifully crafted and creative products. I am particularly touched by the sound, resistance and beauty of construction of Wah-Wah & Cool Jazz (Harmon style) mutes. They are my favorite now, and the wah-wah for piccolo trumpet will give your pic that jazzy sound you may be looking for. I am enjoying it!
Mr.B.H, from Australia
The wah wah mute arrived safely and I'm really impressed with it.
Congratulations on the fantastic products you are developing for brass players!
Michael Dease
I play a lot of straight-ahead jazz in small clubs with demanding audiences. My Best Brass mutes help me stay at the top of my game. I can do my long-tones silently backstage with my Warm-Up mute, and achieve colorful tonal effects with the Wah-Wah Sound Transformer. They have become an indispensable part of my trombone case, and I highly recommend them. Bravo Best Brass!"
Maynard Ferguson
Mr.M.K, from Czech.R
I am back home in Prague now from Japan tour. I have still in my mind a very nice visit of BEST BRASS company.
I bought couple of your mutes for practising and for my son I bought your aluminium(unlacquered) "wah-wah & cooljazz" trumpet mute.
He really fell in love with this mute! He loves the "light" feeling on this mute and the beautiful sound. He don't want to play his old mute again!
Thank you very much for the great job you are doing with all the "brass stuff".
Paul Baron
I play a lot of Broadway type shows and studio work that involves quick mute changes, and every other harmon mute I've owned or tried requires moving the tuning slide. Not so with the BEST BRASS mute. It's wonderfully in tune and has a great sound from low F# right up to double C. I'm so pleased to have found this mute and want to spread the world. The Warm-up mute is invaluable as well. Since I'm on the road staying in hotels. I use it everyday for my warmup. The blow is the closest to playing an open horn and yet it's the quietest practice mute available. I'm so pleased to have found this mute and want to spread the world.
Barry Manilow record date at Ocean Way!
Bijon Watson
Scotty Barnhart
Kota! The new Warm-up mute is great and thank you very much. I also love the new Harmon mute and it is also the very best I have ever played. You have made me excited about mutes again!
Scotty Barnhart (L)
Freddie Hendrix (R)